Hi guys, recently
alpenwasser
showed us the beauty of cable lacing, and with his permission, I decided to write a simple guide to lace your own cables, with the correct tools this is quite a straightforward process and will make your rig look more professional than ever, at least in my eyes, it looks like a hundred times better than plain old boring cable ties.
Alpenwasser
did a very informative guide on lacing double layered cables, which technique can be used for any amount of rows you have, in this video, he showed us how to lace a double layered cable with eight rows, and using the same technique I managed to lace one with just two rows.
The tools/materials needed to lace your cables are :
Waxed cotton lacing (any colour) with 1mm width (thicker for a more industrial look)
Paperclip (not essential but it will make your life easier)
Scissors
Cable for lacing
Here is alpenwasser's video tutorial :
You might have single layered cables which cannot be laced using the same technique as the one used when lacing double layered cables. So here is a step-by-step guide on how to lace a single layered cable. For the sake of this guide, I will be using 2mm thick red lacing as it will be easier to follow and well, it just looks sexy on black sleeved cables.
Note: You will be working from the bottom side, so please make sure that the side that will be shown off is facing downwards.
To start of with, tie one end of the cotton lace to a paperclip (you can do both but it's not really important) and prepare your other materials.
First step is to wrap the lacing around all the wires once, so that no lacing overlap each other. Leave about 1 inch of extra lacing so you will be able to tie a knot later on.
And go over again, but this time go between the last two cables, in this case, between cables 3 and 4.
Then go back up between cables 3 and 4 from the bottom side, as shown in the picture below.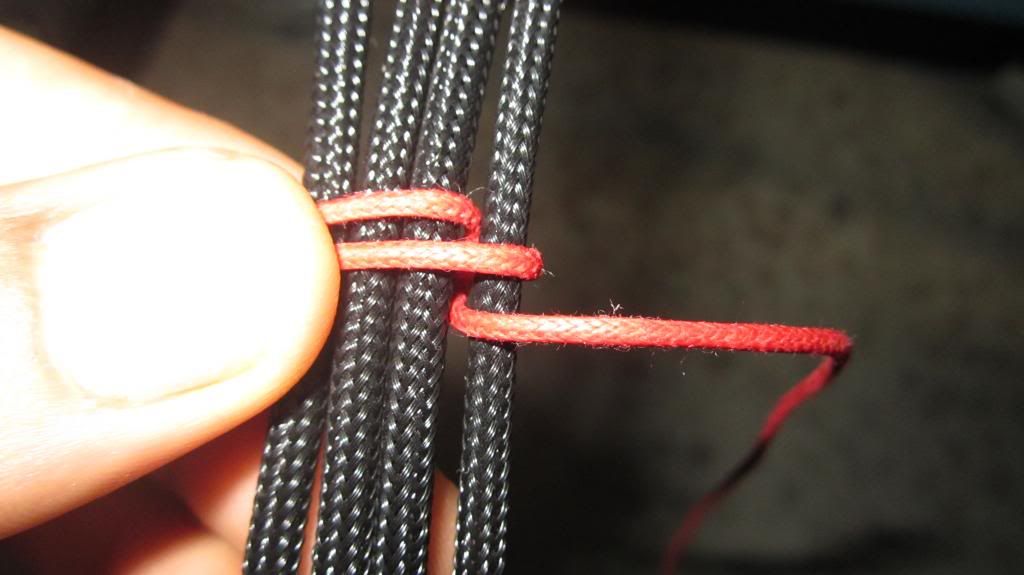 Then cross over to the top side between cables 2 and 3.
And go back up from the bottom side of cables 2 and 3 .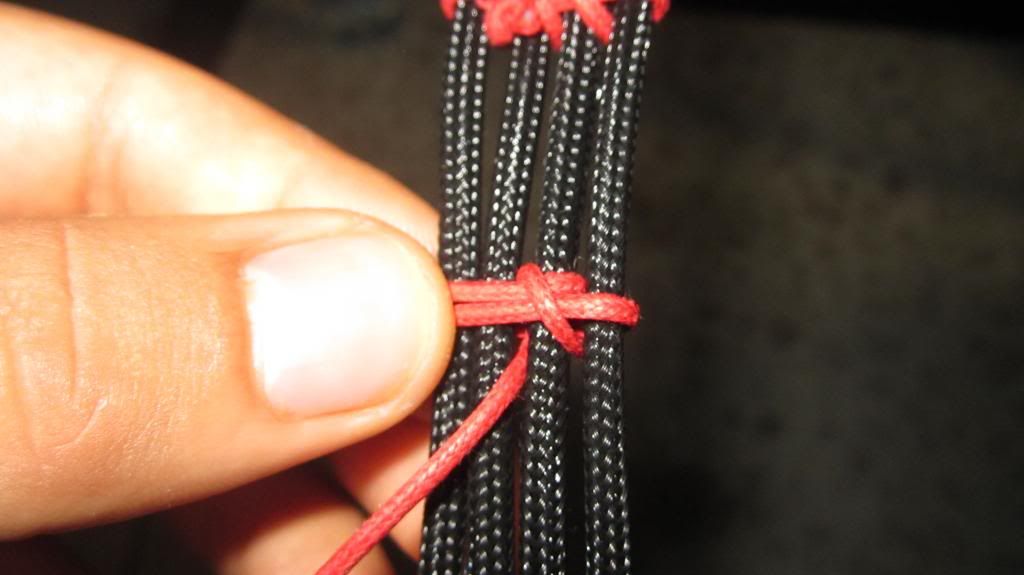 Then cross over again and go in on the top side between cables 1 and 2. (note there is a pattern and you can follow it no matter how many cables you have).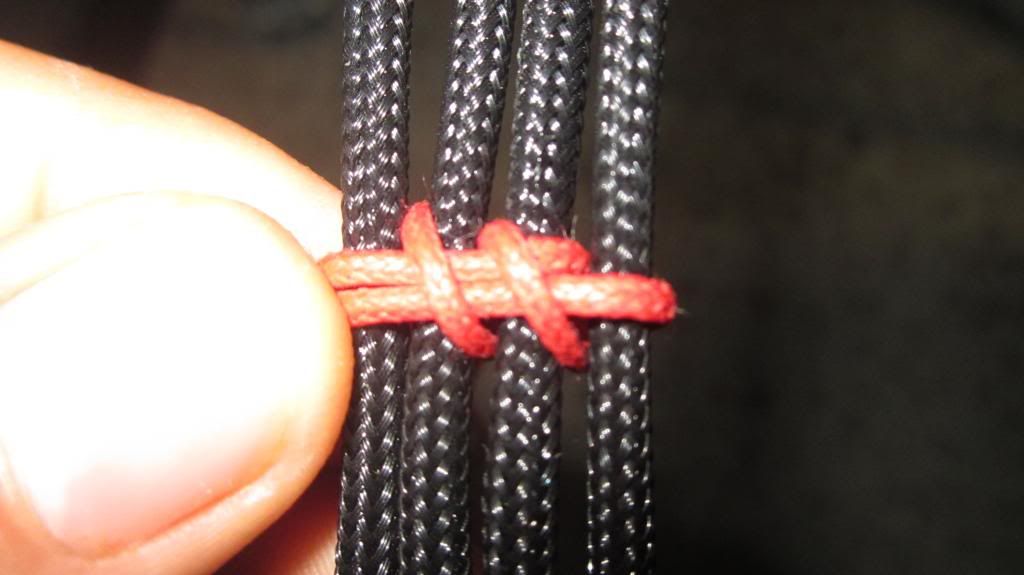 Then come out again on the bottom side of cables 1 and 2, and you should be left with something like this.
Then tie a knot with the extra piece you left at the beginning. I did just a single knot for the sake of looking better as the lacing is a bit thick but with thinner lacing, you could do a double knot for the lacing to be more secure, although it's not going anywhere.
Then finally trim off the excess lacing and voila, you laced your first set of cables.
This is how the front should look like if done correctly.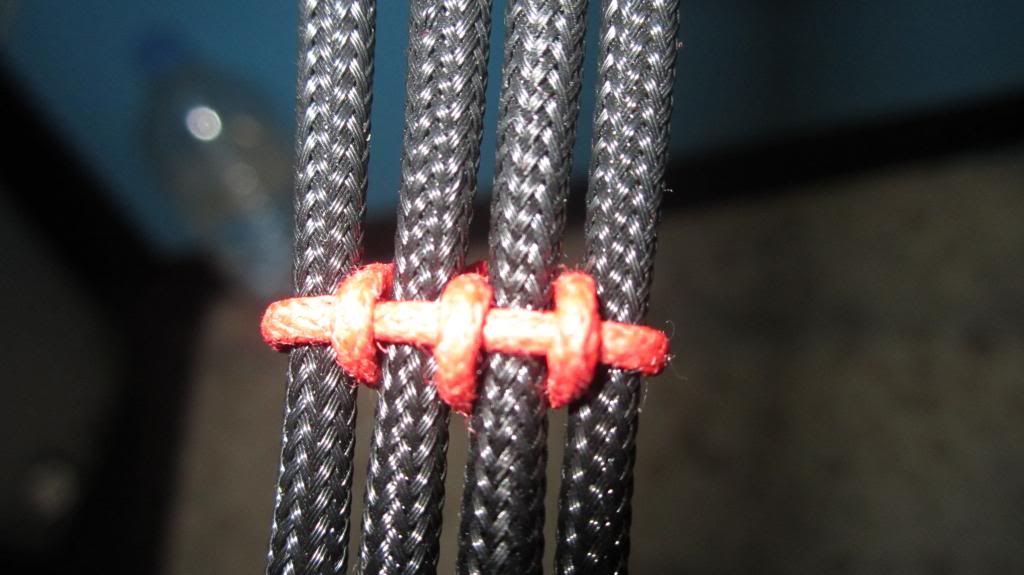 And a final shot of the whole cable, now obviously you don't have to do it three times on this short length of testing but I was still experimenting with it and the third one was done for the sake of this guide.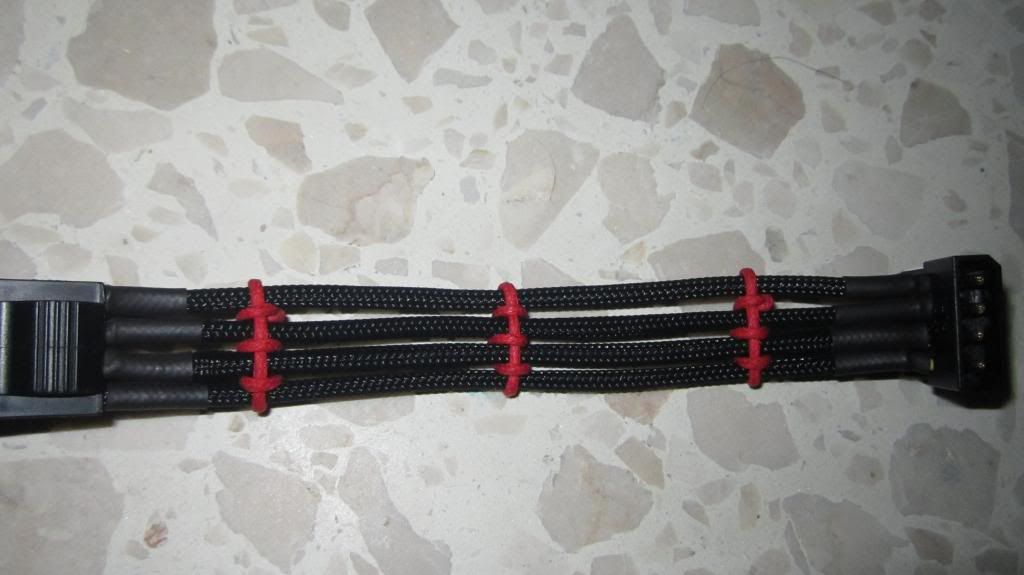 Please leave any feedback, criticism and/or questions in the comments below. I hope you enjoyed it as much as I did. Props to
alpenwasser
Regards,
maniac