We've made a couple of changes to the News section of the forums. As some of you may have noticed, threads that are posted in this section are now put automatically onto the front page of the website.
However, due to the number of threads that are posted in this section with a mere link to another site, it isn't right for threads such as that to be put onto the front page, and in fact shouldn't really be on the forums at all. If you want to post news on the forums without much writing our
Quick News
thread will be more suitable than a dedicated news thread.
Therefore threads in the OC3D News section of the website will now require moderator approval before going live. Anything that isn't up to standards will not be approved or could be edited before they are.
Dedicated News Threads must follow the guidelines below;
- All news threads must have all relevant information in the thread. Users must not be expected to go off-site to find all necessary information.
- A source link/info must always be present whenever possible, whether it be to an external website, social media or to magazines/newspapers.
- Images are not a must but they will certainly improve the perceived quality of posts. IE, if NZXT announces a new AIO cooler or chassis, it would be nice to see images or a video of the new product.
- Those who consistently post good news articles in the correct format will be given automatic approval status, though this will be considered on a case-by-case basis.
- News posted here can be developed into full front page articles by OC3D staff. Credit will be given Forum users in the written article if they were the ones to initially bring the news story to the attention on OC3D staff.
- When a news thread is submitted it cannot be updated by users until it is approved. Please ensure that threads meet OC3D guidelines before submitting the post. Posts that do not meet our guidelines will be deleted or moved to
OC3D Quick News
when applicable.
Thanks for your understanding.
Please look at the demo news post below:
---------------------------------------------------------------------------------------------------
Corsair Release 3 new cases
Corsair, designer and supplier of many performance PC components on the market, has today announced their Carbide SPEC series of gaming cases.
The Spec Series will be Corsair's Entry level Gaming Cases and will be available in 3 models, the SPEC-01, SPEC-02, and SPEC-03, and will cost between $50 and $60. As Corsair say themselves the SPEC range will offer "everything gamers need from a case and nothing they don't", so we should expect great airflow, build quality and the ability to use a long graphics card, but do not expect anything too fancy, this is a budget case after all.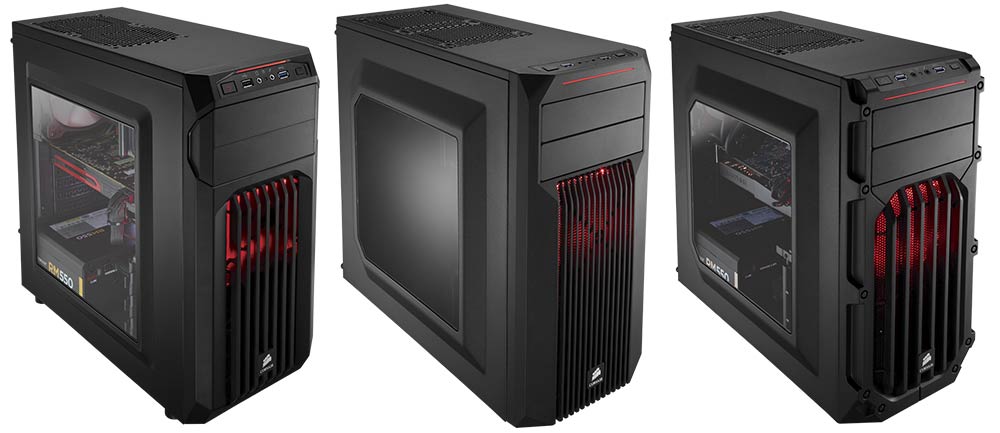 All these cases from Corsair are ATX mid-Tower cases offer tool free assembly, filtered intakes, a side panel window and and a two year warranty. The SPEC-01 (above left) is the lowest end offering, costing $49.99 it offers the bare minimum required for a gaming system today, 4 3.5"/2.5" drive bays for storage, 2 5.25" drive bays for anyone still using optical media and a Clear Acrylic window so the user can see his or her components.
For an extra $10 the SPEC-02 (above middle) and SPEC-03 (above right) offer a little more for your money, apart from generally more pleasing aesthetics, it provides you an additional front USB 3.0 port (two total), separate 3.5" and 2.5" storage, a tinted window, additional fan/fans and fan colour options. The Spec-02 and the SPEC-03 only differ in their available fans and front panel shapes. Full specs can be seen below.
The Carbide SPEC series, while they do not have the same "premium features" that many of us have came to expect from corsair, they bring a great value to their current range of cases. This range of Cases will become available at some point in April.
What do you guys think of Corsair's budget offering? Is there anything that you guys would change? Please comment below.
Source -
Corsair