The new GeForce Game Ready 375.57 WHQL drivers are optimised for the upcoming release of Battlefield 1, Titanfall 2, Civilization VI, Serious Sam VR: The Last Hope, and Ubisoft's Eagle Flight. To download and install, simply fire up GeForce Experience and click the "Drivers" tab.
Game Ready For Battlefield 1
Earlier in the year 13.2 million gamers blew each other to smithereens in the Battlefield 1 Open Beta. Now, the finished version of the game is about to launch, first to Early Enlister Deluxe Edition buyers on the 18th, and then to everyone else on the 21st.
If you're one of the many who intend to play the full release and want to play 60 FPS action at 1920x1080, with High graphical details, gear up with a GeForce GTX 1060.
OS: 64-bit Windows 10 or later
CPU: AMD FX 8350 Wraith, or Intel i7 4790 or equivalent
GPU: NVIDIA GeForce GTX 1060 3GB
RAM: 16GB RAM
DirectX: 11.1 Compatible video card or equivalent
Online Connection Requirements: 512 KBPS or faster Internet connection
Available Disk Space: 50GB
For higher resolutions, detail levels, and framerates, look to other 10-Series GeForce GTX graphics cards. And to ensure you get the smoothest, fastest SLI-enabled experience on any GPU, system or laptop, be sure to snag the new Game Ready driver through GeForce Experience, an indispensable application for GeForce GTX gamers, enabling instant, easy driver updates, plus game setting optimisation, gameplay recording and streaming, giveaways, and much more.
Game Ready For Titanfall 2
On 28th October, Respawn Entertainment's Titanfall 2 comes out swinging, delivering a story-driven single-player campaign, grappling hook-enhanced multiplayer modes, and fast-paced Sci-Fi action that builds upon the first game's excellent gameplay. Last month, we unveiled the world's first look at Titanfall 2 running on PC at 4K, at 60 FPS, with every game setting maxed out:
And now debuting the first look at the single-player campaign, running at 4K, at 60 FPS, with every setting maxed out:
To experience Titanfall 2 at 4K at 60 FPS, with every setting maxed out, Respawn Entertainment is recommending gamers equip their systems with a NVIDIA GeForce GTX 1080, the only consumer graphics card capable of playing Titanfall 2 at that level of detail at the time of writing.
If you lack a GeForce GTX 1080 and a 4K monitor don't fret, you can still have a fantastic Titanfall 2 experience with other GPUs. For instance, the GeForce GTX 1060, can play Titanfall 2 with nearly every setting maxed at 60 FPS at 1920x1080, or with a lower framerate a 2560x1440.
With settings virtually on max you'll see Insane-quality textures, NVIDIA HBAO+ Ambient Occlusion effects, and higher-quality anti-aliasing, effects and shadows. And with a high level of performance you'll have smooth, stutter-free gameplay even during the most explosive moments in Titanfall 2's fast-paced multiplayer matches.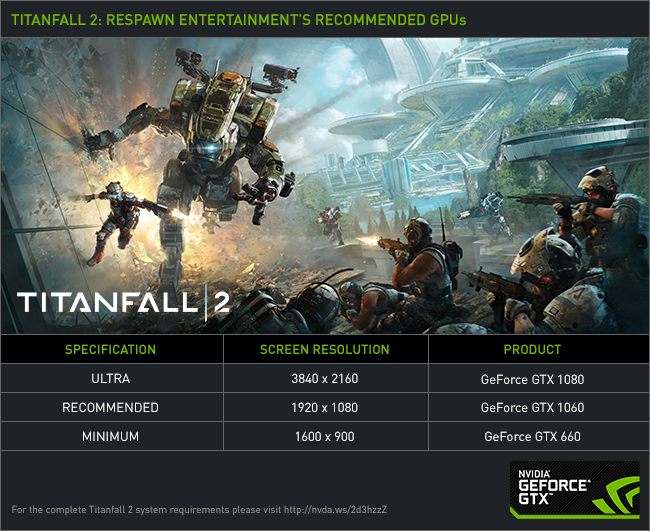 Titanfall 2 also supports several NVIDIA game and experience-enhancing technologies, and is overflowing with graphics settings, configuration options, and everything else you'd expect out of a good PC game.
Game Ready For Sid Meier's Civilization VI
On 20th October take one last look at your loved ones and set up an automatic feeder for your pets, because 21st October sees the release of Sid Meier's Civilization VI, the latest release in the addictive franchise that consumes every waking hour of your life.
Game Ready For Ubisoft's Eagle Flight
Soar into the sky as an eagle, and then peck or claw your enemies to death in Ubisoft's Eagle Flight, a Virtual Reality multiplayer game set in a world where humanity has vanished.
For the smoothest and fastest Eagle Flight experience, free of stuttering and other issues, swoop down and grab the new Game Ready driver.
Game Ready For Serious Sam VR: The Last Hope Early Access
Serious Sam, the less-than-serious action hero of several first-person shooters, returns in Serious Sam VR: The Last Hope, a new Virtual Reality shooter that's now in Early Access on Steam.
Save the galaxy by slaughtering Mental's ever-advancing hordes, but make sure you do it with the highest possible framerates, and lowest frametimes, by downloading the new Game Ready driver.
GPU Compatibility
GeForce 1000 Series:
GeForce GTX Titan X, GeForce GTX 1080, GeForce GTX 1070, GeForce GTX 1060, GeForce GTX 1050 Ti, GeForce GTX 1050
GeForce 900 Series:
GeForce GTX Titan X, GeForce 980 Ti, GeForce GTX 980, GeForce GTX 970, GeForce GTX 960, GeForce GTX 950
GeForce 700 Series:
GeForce GTX TITAN Z, GeForce GTX TITAN Black, GeForce GTX TITAN, GeForce GTX 780 Ti, GeForce GTX 780, GeForce GTX 770, GeForce GTX 760, GeForce GTX 760 Ti (OEM), GeForce GTX 750 Ti, GeForce GTX 750, GeForce GTX 745, GeForce GT 740, GeForce GT 730, GeForce GT 720
GeForce 600 Series:
GeForce GTX 690, GeForce GTX 680, GeForce GTX 670, GeForce GTX 660 Ti, GeForce GTX 660, GeForce GTX 650 Ti BOOST, GeForce GTX 650 Ti, GeForce GTX 650, GeForce GTX 645, GeForce GT 645, GeForce GT 640, GeForce GT 630, GeForce GT 620, GeForce GT 610, GeForce 605
GeForce 500 Series:
GeForce GTX 590, GeForce GTX 580, GeForce GTX 570, GeForce GTX 560 Ti, GeForce GTX 560 SE, GeForce GTX 560, GeForce GTX 555, GeForce GTX 550 Ti, GeForce GT 545, GeForce GT 530, GeForce GT 520, GeForce 510
GeForce 400 Series:
GeForce GTX 480, GeForce GTX 470, GeForce GTX 465, GeForce GTX 460 SE v2, GeForce GTX 460 SE, GeForce GTX 460, GeForce GTS 450, GeForce GT 440, GeForce GT 430, GeForce GT 420
Download Links
Windows 7/8/8.1 32 Bit - Click Me
Windows 7/8/8.1 64 Bit - Click Me
Windows 10 - 32 Bit - Click Me
Windows 10 - 64 Bit - Click Me
Official Release Notes PDF