Hello,
Just bringing this one over from the build logs as I have hit a bit of a stall in the build process. I started college this past fall and as such have not had the funds for new parts so here it is.
Case: Corsair Vengeance C70 Military Green
Motherboard: Asus Sabertooth Z77
CPU: Intel i5 3570K 4.2GHz @1.16v
Memory: Corsair XMS3 1600Mhz
CPU Cooler: Coolermaster Hyper 612
HDD: Western Digital 1TB Green
Video: MSI Cyclone HD6850
Power: In Win Commander II 850w
Here are some glory shots: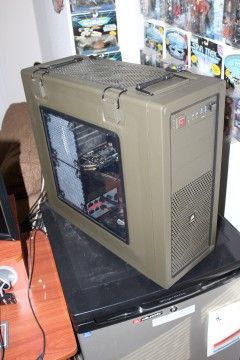 I know the fan is on the wrong side of the Heatsink but the one from Coolermaster died on me and I just have not put a new one in yet. Still getting low core temps!!
On the last cleaning I neglected my roof fans!!!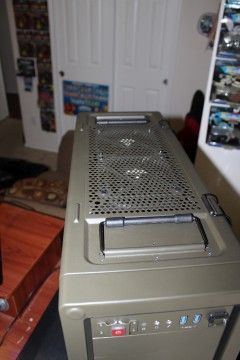 Just hope to receive a H100 this Holiday season and I may get around to the side window while on winter break from school.